Explore the Down South by Coastal Line Train – Part 02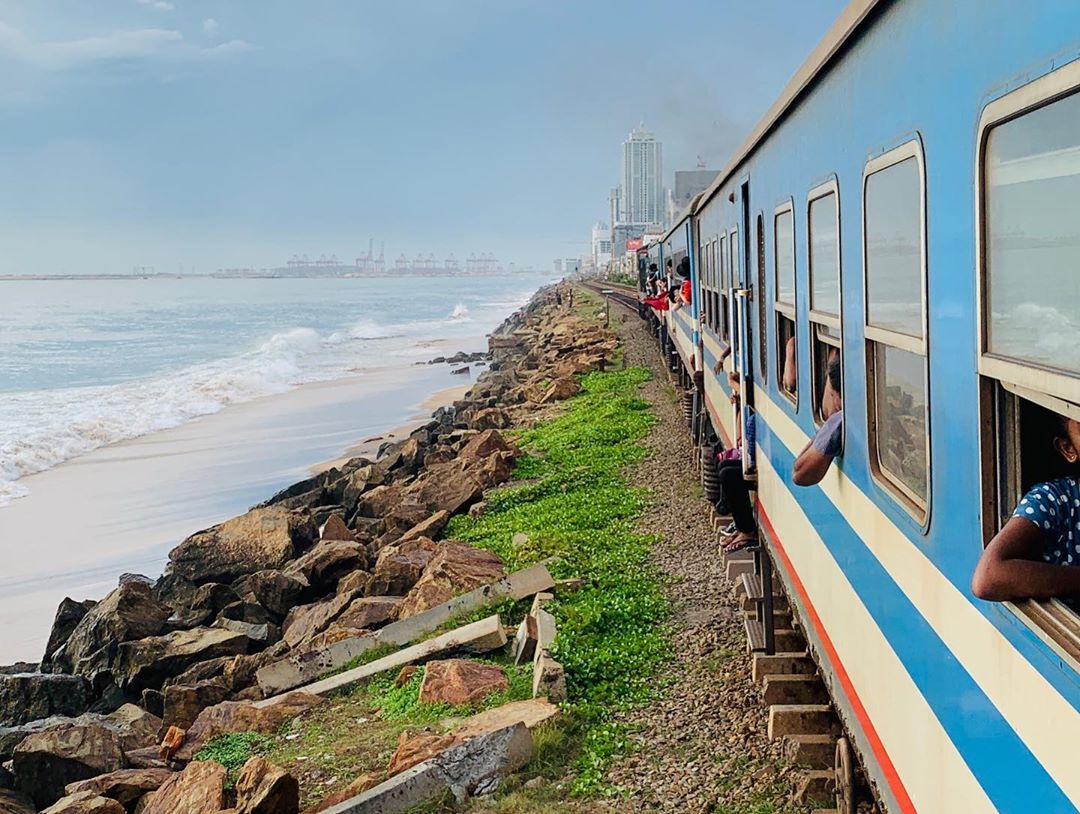 So you've completed the first leg of your journey down south on the Coast Line Train and is now rested and refreshed from a long journey at Kalutara.
You'll be more than happy to know that the wonders speckled along this train line don't stop at Kalutara but continue on all the way down to Hikkaduwa. Read on to see which sights you need to check out on your way down south on the Coastal Line Train.
Boarding the train from Kalutara North station
Because of the Coastal Line Train's start-stop journey, it's really easy to hop on and off wherever you fancy along the way. Which is why Kalutara is such a convenient stop to separate the 1st leg of your journey from the 2nd leg.
So hop on the line at Kalutara North Station for a seamless continuation of your down south journey as can only be done on a train line like this.
Pro-tip: Be sure to check out the local timetables and schedules for the train's arrival and departures at Kalutara North to ensure a smooth journey as minute delays along the journey can fudge the timing of the schedule from the times you may have seen at Colombo or online.
Beruwala harbour – Beruwala station (distance from station 1.2km)
The sixth stop once you've departed from Kalutara North is Beruwala Station. Just 1.2km from Beruwala Station is the Beruwala Harbor and fish market. A walk through this iconic site, teeming with all the chaos and frenzy of fish vendors selling their wares and buyers trying to nab the best and freshest catch of the day is quite the energizing and inspiring experience. If you are able to visit early in the morning, you'll be able to see the many local fishermen and fishmongers wrangle their catches in and prepare to start their day, with their colourful fishing boats bordering the coastline. It's an experience unlike any other.

Moragalla beach – Hettimulla station (distance from station 2.1km)
The next station over from Beruwala is Hettimulla Station. Here is Moragalla Beach, just a 2.1km skip from the station. It's a calmer and quieter beach than any you've probably seen or read about and that's because the underwater coral reef in the shallows make for excellent snorkelling and diving experiences. Then too is the hooked panhandle of Bentota Beach wrapping around, forming what seems to be an island but in actuality is an arm of sandy mainland that you can take a quick boat ride to. Definitely a must-see beach experience.

Aluthgama Water Sports Centre – Aluthgama station (distance from station: 650m)
Closing out the trio of back-to-back stations you must stop at on this 2nd leg of your down south journey is Aluthgama Station. Aluthgama is home to a Water Sports Centre, a mere 650m from the train station too, where a multitude of water sports and activities await you on the Bentota River. From wakeboarding, jet-skiing, bodyboarding and even tranquil river cruises, Aluthgama's Water Sports are not to be easily overlooked.

Victor Hasselblad sea turtle research centre – Kosgoda station (distance from station: 750m)
A couple of stops over from Aluthgama is Kosgoda Station. Kosgoda boasts a truly unique experience with its Sea Turtle Research Centre and Hatchery, just 750m from the Kosgoda train station. Named for co-founder, Swedish camera maker Victor Hasselblad, the Sea Turtle Research Centre works tirelessly to protect beached sea turtles as well as protect turtle eggs laid on shore from poachers and natural predators. Visitors can learn about the endangered species and even watch newly hatched turtles being released out into sea. A family-friendly stop on your journey, this sea turtle research centre is an absolute must see.

Sri Wickramasinghe ancient temple (located in an island surrounded by Madhu river) – Pathegamgoda station (distance from station 1.2km)
Your next stop is Pathegamgoda, a small station sandwiched between the Ahungalla and Balapitiya stations. Just 1.2km away from Pathegamgoda station is the Sri Wickramasinghe ancient temple, a Buddhist temple boasting more than 200 years of history and quite unique in that it is located on an island in the middle of the Madhu River. A quick boat ride over provides access to the historic location.

Seenigama Muhudu Viharaya – Telwatta station (distance from station 1.7km)
The penultimate stop on our journey is Telwatta Station, a smaller station that provides the closest access point to the Seenigama Muhudu Viharaya. The temple is in two parts, a larger premise on the mainland and a smaller shrine that pays homage to a local deity said to protect fishermen and their boats on a small islet, easily travelled to by boat. As one of the smallest islets to house any form of religious site, this temple is must see if you want to get a taste of local cultures and traditions co-existing with larger monuments.

Hikkaduwa beach – Hikkaduwa station (distance from station 500m)
Finally, we've arrived at Hikkaduwa, our destination. Frequently lauded as the best beach in Sri Lanka, Hikkaduwa Beach sits just 500m from the train station. Dotted with local and larger beach-front restaurants, Hikkaduwa Beach is the place to be to get a taste of that tropical beach lifestyle. Dig into some seafood, catch the exquisite sunsets, surf the waves or even go out for a night on the town.
With such a lively locale, there's plenty of accommodation options for you to choose from. For one of the best budget hotels in Hikkaduwa that also happens to be right on the beach, Citrus Hikkaduwa is definitely worth checking out so that you can make the most of your time in Hikkaduwa.
Image credits: trvl_cpl via Instagram