Sri Lanka has recently become quite popular as a venue for destination weddings. Sri Lanka is an ideal location to make your dream come true and have a beach wedding. Weddings, in general, are quite stressful to plan and execute as there are many tiny details that need attention but might completely slip your mind. Planning a beach wedding in Sri Lanka might seem too big to handle right now, but we are here to help you out and reduce some of that stress you may be feeling! Here are 7 tips on how to plan a perfect beach wedding.
1. Pay attention to your location
Not to state the obvious, but the location of your dream wedding is quite important and affects all the other details. Hikkaduwa has some of the top wedding venues in Sri Lanka as they have luxurious hotels serving high quality food and a clean wide beach. But since you may have not been to all the possible beach hotels in Sri Lanka, spend some time talking to people and researching on your various options. Do not rush your decision. Pay close attention to the setting, the view and the various amenities that will be provided by the hotel to find out if it suits your liking.
2. Inform guests about the venue
Before you jump into any conclusions about how obvious this might seem, hear us out. Yes, informing guests about the date and venue is obvious, but for a beach wedding, especially if it requires your guests to make travel arrangements, inform them well ahead. Some people may need prior notice to arrange their trip to your wedding which will help you finalize the wedding list as well. Secondly, it is vital that you mention it is an outdoor beach wedding so that guests will attend in suitable and comfortable attire. The last thing you would want is for guests to be unhappy because their heels are stuck in the sand or their brand new suit has got spoilt by the salty air.
3. Choose the time of day
Just like any other wedding pick whether you would want to get married in the morning or evening, but choose it well ahead. Unlike an indoor wedding, the lighting at a beach wedding can be quite unpredictable. Therefore it is important to decide on the time of day and inform the photographer so they can be well prepared with the necessary equipment. Additionally, the make-up, suit and even menu would depend highly on the time of day. So the sooner you decide on it, the sooner you can get started on the other details.
4. Consider a backup
Unfortunately, no matter how meticulously you plan, everything is not in your control. Especially the weather. In case the weather on the day is not favorable for an outdoor wedding have a backup ready close to your beach location. You can even consider setting up decorated tents and marquees to fight the weather. But let's hope and pray that on your wedding day the sky would be clear and the weather would be perfect.
5. Make-up check
Make-up is quite a crucial component in the bride and the bridal party's attire. And even though it can generally be quite tricky, outside weddings make it even more challenging. It is important that your hair and makeup will sustain the outdoor winds. It might be even worth it to have a few trial runs to see how long it may last outdoors.
6. Plan a menu accordingly
Beach weddings have an atmosphere of fun, dancing and drinking. The key to ensuring food and money is not wasted is to serve a light meal. Depending on the seating arrangement you may even consider serving finger food. Guests don't usually expect a huge buffet at a beach wedding and most guests may not even be interested in it as they may be eyeing the dance floor. So cut down on the food, but don't forget to spend on the drinks.
7. End with a bang
In the mad rush of planning and ensuring everything is perfect, don't forget this is you and your loved one's special day! The wedding may be planned to the very last detail, but don't forget to make it more special for the two of you. Take advantage of the location and plan a memorable ending to your wedding. Most hotels offer a boat ride for the newlyweds and this getaway might be the perfect end to your perfect day.
Want to have a wedding that's truly memorable? Consider travelling to the tropical jungle paradise of Sri Lanka to have a unique, outstanding ceremony that will seem like a dream come true. Having a wedding in another country is no easy matter however, and if the planning is not handled right, it can cause you a lot of stress. But don't worry, here are some tips on how to plan a stress free, successful wedding in Sri Lanka.
1. Visit the country
It may sound obvious, but your safest bet is to visit the country and location before you book the place. Doing so will allow you to assess the locations you peruse and choose the one that you truly like best. Booking online may mean that when you arrive, the location might be slightly different from what you saw or imagined! However, If that's not possible, then make sure to arrive at least a week to a few days before the wedding itself so you can supervise the arrangements yourself and spare yourself any nasty surprises that you could not anticipate. This will also allow you to get a feel for the culture of the country, so that you can be inspired regarding things like decoration, food and the like. It would also help to know the surroundings of the location, so that you can anticipate what kind of territory you and your guests will have to get through to get to the location. For example, wedding halls in Kalutara tend to be close to the beach, so you can figure out if you'd like to incorporate that in your wedding or not.
2. Hire a good wedding planner
Preferably a local! They will be able to handle everything on this side of the country, being your eyes and ears on the ground. They can also put you in touch with local florists, caterers, photographers, makeup artists and any other service that you need on your big day. This will greatly reduce the costs that you will incur (you won't need to pay for the plane ticket for your photographer, for example) and will also inject your wedding with some local flavour! Trust your planner to sort out the smaller issues by themselves, as insisting on okay-ing every single situation might stagnate the planning process somewhat. Stay involved, though, so that you are assured to love how your day turns out!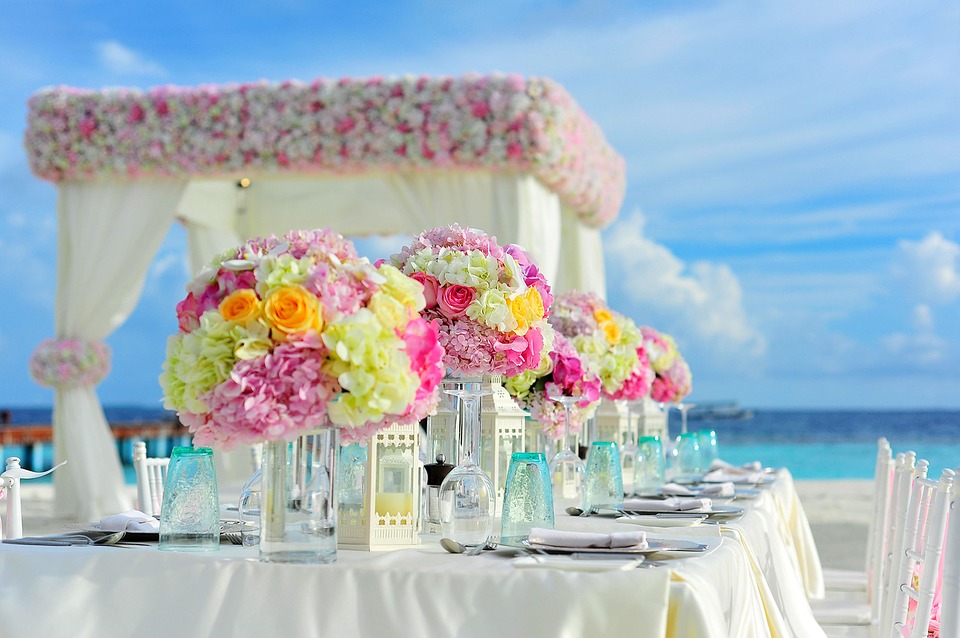 3. Pick your theme
Sri Lanka is a diverse country in every possible way – whether culture, language, religion or natural features. Therefore, you'll have to pick the theme of your wedding. Are you going for a fairy-tale wedding in a lavish ballroom? Do you want your guests to be able to head down to the beach after the ceremony? Or perhaps you want your ceremony on the sands itself, exchanging vows as the sun goes down. You may even want to go in the opposite direction, and have your wedding in the tea country! Will you have a traditional European or Sri Lankan theme? Maybe an unconventional wedding? These are all questions to consider! Your theme and scale will tell you what kind of budget you will be able to keep to, as well as how many guests to invite. The theme will also influence other decisions such as your outfits and décor and party favours.
4. Dress right!
Keep in mind that the Sri Lankan climate is usually hot and humid, so if you plan on having an outdoors wedding then make or buy your dresses and suits accordingly. Materials that are light and flowy work best, so opt for lace, linen, silk and cotton in lieu of brocade or satin. However, if you want to have a wedding indoors or in the mountains then you can use something heavier. Figure out if you'd like to have a shawl or some kind of covering that you can remove if it gets warm. Make sure the bridesmaid's dresses are also comfy, and that the groomsmen's outfits won't be susceptible to stains. Don't forget to mention in the invitation that your guests should dress accordingly as well. If you feel like it, you may even wish to wear traditional Sri Lankan wedding outfits. These are available for hire and can make your day extra special! They will also look spectacular in photographs, and will help make your day inked in your mind indelibly.