Sri Lanka has long been known for its outstanding surfing beaches and is one of the premiere destinations for surfing in South and South East Asia owing to its dreamy tropical climes and tourist-friendly locales.
But Sri Lanka also has some of the best beginner friendly surfing beaches around the world. So check this list of beginner-friendly surf spots for a handy guide. Surfs up!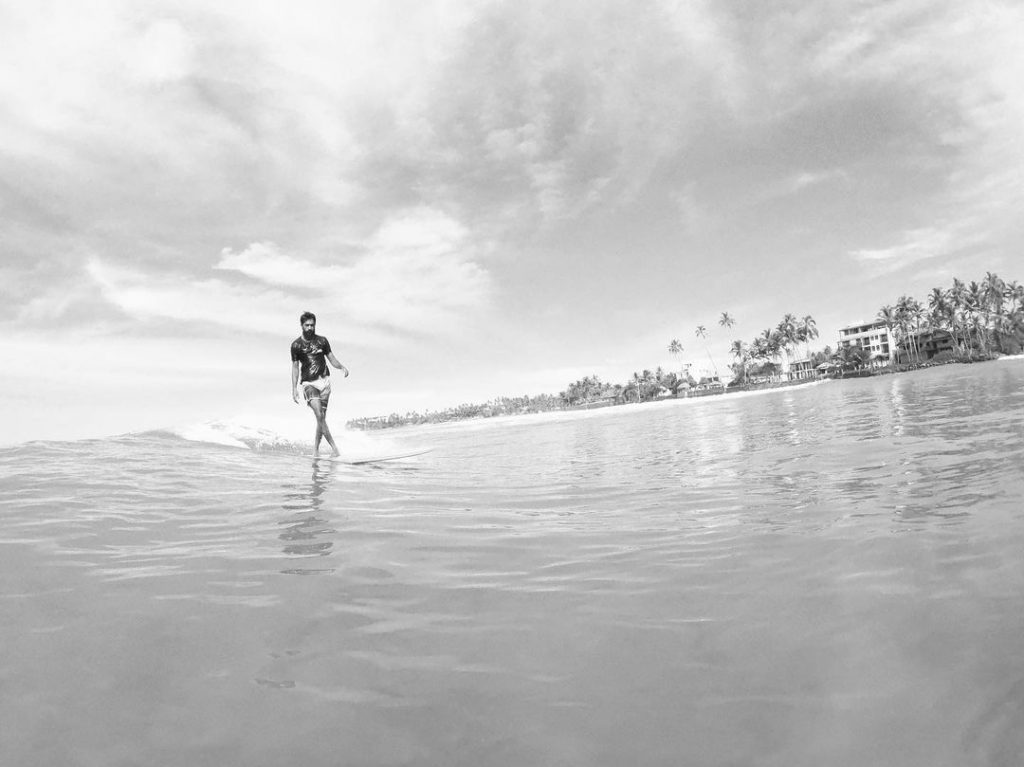 Way Down South is Weligama, the oft skipped over quieter cousin to Hikkaduwa. With a myriad of surfing schools dotted around the beach and some cheap surf rental places to boot, Weligama is known for a calm surf that is as easy for beginners as it is relaxing for a more experienced surfer. Weligama is a medium to low wave beach any way you look at it and the perfect place to get your surf legs on before diving into a deeper challenge.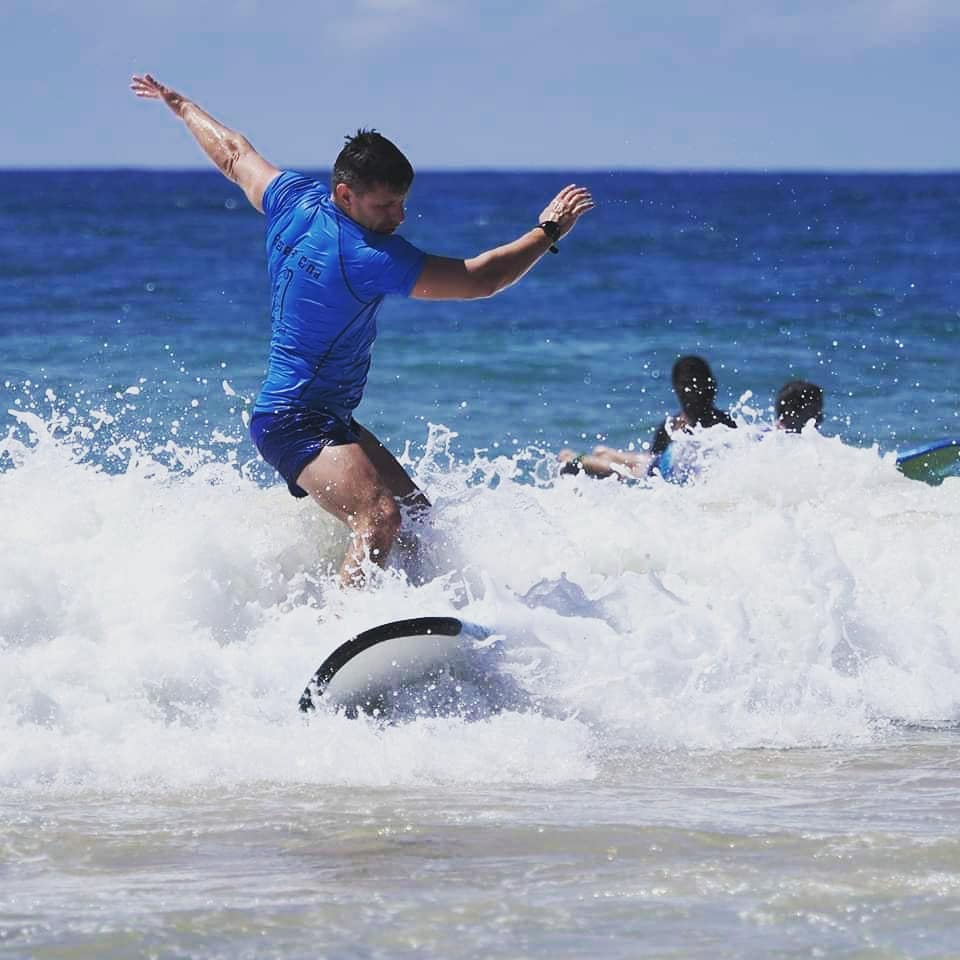 Once a fishing town but now a main hotspot for beach-happy tourists and locals, Hikkaduwa is a prime surf spot. Because of its popularity, where to stay in Hikkaduwa is rarely a tough question to find an answer for.
Hikkaduwa is known for quite a few famous local wave breaks, among which Beach Break is a sandy break often favored by beginners and learners for its low waves.
A crescent-shaped beach surrounded by palm trees, Mirissa Beach is right next to Weligama and boasts equally beginner-friendly breaks and waves. With steady wave heights not exceeding 6ft, this is an ideal spot to build your confidence on a reef so that you're raring to go when you're in choppier waters. Mirissa is a charming beach town with beautiful waves, a friendly locale and the best sun and surf. There's a number of surf schools and shops around, as is common around Sri Lanka's surfing towns so there's no excuses to skimp out on the waves.
Arugam Bay is Sri Lanka's East Coast surfing beach to beat. It's the beach that originally put Sri Lanka on the surfing map and still holds up as a haven for surfers of all levels to gather and try their luck on. Lighthouse and Whiskey Point are the main attractions here for beginner surfers, with chest- or shoulder-height breakers to cut your teeth on for some practice. Arugam Bay can get crowded, what with its popularity, with both visitors and local surfers alike but the upshot is that there's any number of pros around to ask for a helpful pointer or two if you're a beginner.
Near Arugam Bay is Elephant Rock, an oft-overlooked and isolated little beach. Few decide to make the trip owing to the 15-20 minute walk from the vehicle drop-off to the shore but it's definitely worth it because Elephant Rock boasts one of the best kept beaches on the island. It's clean, off-the-beaten path and chock-full of easy breakers for a delightful surf. And when you want a break from the waves, clamber up onto the sea-facing rock for a view-tiful break!

Sri Lanka has been gaining buzz as one of the top holiday destinations in the world and as you'd expect, tourism thrives on the Island.
But what a lot of tour guides and packages don't mention is that Sri Lanka is also really cheap to travel to and around on a budget. If you don't want to spend an exorbitant amount of money on your next holiday, read on for why Sri Lanka is one of your best options for an amazing time and an easy load on your wallet too.
Getting Here
Sri Lankan tourist visas are quite cheap. If you apply ahead of your arrival online, you'll only pay a fee of $35. There's also the possibility of a tourist visa on arrival at the Sri Lankan airport but there's a price hike and long waiting lines if you choose this option so for a budget holiday, apply online and get your visa cheap and fast!
Accommodation
While your typical, touristy hotels can be a bit pricey on a budget, there's any number of budget hotels, hostels, small bungalows and homestay opportunities for as low as $10.
What's more, booking rooms in advance using online trip planners such as Booking.com will net you cheaper prices than if you book directly at the place. And it will also help you plan out your trip around the Island a bit better too, as a side bonus.
Travel
It goes without saying that booking private transport around the country is much more expensive than public transport. What's surprising is how much cheaper public transport is. There's an extensive bus network throughout Sri Lanka and even a journey of more than two hours will only set you back a couple of U.S dollars. Buses can get crowded but there's never a dull moment in one with booming Sri Lankan music and screeching horns so it's definitely an experience not to miss.
Sri Lanka's train network, although not extensive and certainly not fast, is also quite cheap and is often the best way to get from one large city to another, especially in the Southern and Central regions of the country. Like buses, train rides are very cheap. Though there are air-conditioned, 1st class cabins in pretty much all intercity trains, opting for a much cheaper 2nd class seat is a much better idea. How else are you going to hang out the doors of a long winding train on a hill and take that photo you've only seen online and always wanted to take?
For shorter trips within cities, tuk-tuks are abundant although it's general practice among tuk-tuk drivers to charge tourists almost double the local price. But you can ask your homestay family or the manager of your budget hotel for a local price point so that you can negotiate the price down to its normal level before you set off on the tuk-tuk ride.
Food
There's no shortage of cheap food options in Sri Lanka. Street-food in Sri Lanka is amazingly cheap and quite often are unique experiences you won't find anywhere else in the world.
For meals, it's quite easy to duck into small restaurants, recognizable by their mostly local clientele and small spaces, and sit down for a full rice and curry lunch or dinner for just a U.S dollar or two. Just make sure to keep smaller notes in local currency on hand and you'll be saving quite a lot in food expenses while still getting Sri Lanka's iconic, delicious food experience.
Things to do
Perhaps the best thing about Sri Lanka when it comes to budget travel is that there are many things to do and experience around the country, completely for free.
Because of Sri Lanka's all-around coastline, there's definitely any number of local beaches that are completely free and oftentimes, completely devoid of other visitors. Settle down, stretch out and get ready to lose quite a few hours on a gloriously empty and completely free beach.
It's common practice, too, for travellers on a budget to make a beeline for a beach town like Hikkaduwa and then make full use of the beautiful coastline nearby for free while staying at cost-effective accommodation and budget hotels in Hikkaduwa like Citrus Hikkaduwa. You can even take an early morning stroll to see local fisherman prepare for the day's first catch.
Colombo too, despite its reputation as a tourist spot, has many intriguing and free attractions for the budget traveller. To ease up on travel within the city, book an affordable city hotel in Colombo such as The Steuart by Citrus and then head off to explore the historic districts of Colombo Fort by foot, completely free of course! The local markets are an amazing way to get the feel of the city and also the perfect way to meet the friendly locals.
PC: Canva
As a tropical Island right on the equator, Sri Lanka is known as a genuine year-round destination.
But that doesn't really mean you should travel to Sri Lanka on a whim too. Because Sri Lanka also has its fair share of upsetting weather and seasonal attractions so if you're looking for a helpful primer on when best to visit Sri Lanka and what things to do in Sri Lanka based on the season, you've come to the right place.
Monsoons in Sri Lanka
Sri Lanka is a dual weather Island meaning that pretty much all of Sri Lanka's weather patterns are dependent on two big monsoons that sweep through Sri Lanka each year. 
But don't worry, because the two monsoons blow past in opposite directions, and never overlap, you can be sure of fair weather on either side of the Island at any given time.

Once you understand the two big monsoons, you're pretty much done with figuring out Sri Lanka's tropical weather.
The Southwest monsoon brings rain to the west and southwest coast and the central Hill country from April or May to September, but is generally wettest from April to June. Thus, in the west and southwest coasts, the dry season runs from December to March. 

The other monsoon, the Northeast monsoon brings wind and rain to the eastern and northeastern coastal regions, with rain showers also in the central Hill country, from November to March, with the wettest months being November and December. The dry season, thus, in this region is from May to September.

There is also an inter-monsoonal period, right before the Northeast monsoon hits, where rain and thunderstorms can hit anywhere across the island but it usually clears up in the second half of November.
When should you visit Sri Lanka?
It's a trick question, really, because the answer depends on where you want to go, where you're staying and what things you want to do in Sri Lanka.

Because the monsoon seasons alternate, with half the Island in a wet season and the other half enjoying a dry season at any given time of the year, when you should visit Sri Lanka really truly depends on your itinerary.

So how do you decide?
Here's a quick guide:
Visiting Sri Lanka for the European Winter (December – February)
December to February is smack dab in the middle of the Northeast monsoon so if you're planning a trip to Sri Lanka around these months for your winter, you should make a beeline for the western and southwest coastal regions.

Colombo is a great place to serve as the hub for your trip and once you decide on where to stay in Colombo, destination beaches in the western coast such as Bentota, Kalpitiya and Hikkaduwa are a short train journey away. 

In the south western coasts, fair weather is pretty much the order of the day too and beaches such as Mirissa, Tangalle and Weligama are all pretty popular at this time. Make sure to hit Galle, in the south, for a historical escape and you can even make it to Yala National Park, one of Sri Lanka's largest nature reserves teeming with leopards and elephants for your viewing pleasure. 
Visiting Sri Lanka for the European Summer (June – August)
Since the Southwest monsoon is in full swing by the time your summer rolls around, this is the perfect time to hit the north, north eastern and eastern regions of Sri Lanka.

The Jaffna peninsula and Jaffna city is an excellent outdoor location during these times, with its bustling and colorful atmosphere. So are the east coast beaches, namely, Passikudah, Trincomalee, Batticaloa, Nilaveli and Arugam Bay, the latter being famous for its world class surfing waves.

This is also a great time to visit Sri Lanka's Cultural Triangle, home to five of Sri Lanka's seven UNESCO world heritage sites. Because this region is in the 'dry zone' only December and November bring rain here and it is quite arid and dry the remainder of the year. This is also quite close to Minneriya National Park where you can watch the annual elephant migration.

Central Hill Country
Since both monsoons influence the weather in the Central region, there's not a dedicated dry season here but the high altitude and the surrounding hills mean that the climate in the Hill country is quite balmy and mild most days.

Kandy, the Hill country's cultural capital, enjoys lower rainfall than elsewhere and the December-May period also marks the pilgrimage season for Adam's Peak, a must-do for any trekker and hiker.
P.C: Canva.com
So you've completed the first leg of your journey down south on the Coast Line Train and is now rested and refreshed from a long journey at Kalutara.
You'll be more than happy to know that the wonders speckled along this train line don't stop at Kalutara but continue on all the way down to Hikkaduwa. Read on to see which sights you need to check out on your way down south on the Coastal Line Train.
Boarding the train from Kalutara North station
Because of the Coastal Line Train's start-stop journey, it's really easy to hop on and off wherever you fancy along the way. Which is why Kalutara is such a convenient stop to separate the 1st leg of your journey from the 2nd leg.
So hop on the line at Kalutara North Station for a seamless continuation of your down south journey as can only be done on a train line like this.
Pro-tip: Be sure to check out the local timetables and schedules for the train's arrival and departures at Kalutara North to ensure a smooth journey as minute delays along the journey can fudge the timing of the schedule from the times you may have seen at Colombo or online.
Beruwala harbour – Beruwala station (distance from station 1.2km)
The sixth stop once you've departed from Kalutara North is Beruwala Station. Just 1.2km from Beruwala Station is the Beruwala Harbor and fish market. A walk through this iconic site, teeming with all the chaos and frenzy of fish vendors selling their wares and buyers trying to nab the best and freshest catch of the day is quite the energizing and inspiring experience. If you are able to visit early in the morning, you'll be able to see the many local fishermen and fishmongers wrangle their catches in and prepare to start their day, with their colourful fishing boats bordering the coastline. It's an experience unlike any other.

Moragalla beach – Hettimulla station (distance from station 2.1km)
The next station over from Beruwala is Hettimulla Station. Here is Moragalla Beach, just a 2.1km skip from the station. It's a calmer and quieter beach than any you've probably seen or read about and that's because the underwater coral reef in the shallows make for excellent snorkelling and diving experiences. Then too is the hooked panhandle of Bentota Beach wrapping around, forming what seems to be an island but in actuality is an arm of sandy mainland that you can take a quick boat ride to. Definitely a must-see beach experience.

Aluthgama Water Sports Centre – Aluthgama station (distance from station: 650m)
Closing out the trio of back-to-back stations you must stop at on this 2nd leg of your down south journey is Aluthgama Station. Aluthgama is home to a Water Sports Centre, a mere 650m from the train station too, where a multitude of water sports and activities await you on the Bentota River. From wakeboarding, jet-skiing, bodyboarding and even tranquil river cruises, Aluthgama's Water Sports are not to be easily overlooked.

Victor Hasselblad sea turtle research centre – Kosgoda station (distance from station: 750m)
A couple of stops over from Aluthgama is Kosgoda Station. Kosgoda boasts a truly unique experience with its Sea Turtle Research Centre and Hatchery, just 750m from the Kosgoda train station. Named for co-founder, Swedish camera maker Victor Hasselblad, the Sea Turtle Research Centre works tirelessly to protect beached sea turtles as well as protect turtle eggs laid on shore from poachers and natural predators. Visitors can learn about the endangered species and even watch newly hatched turtles being released out into sea. A family-friendly stop on your journey, this sea turtle research centre is an absolute must see.

Sri Wickramasinghe ancient temple (located in an island surrounded by Madhu river) – Pathegamgoda station (distance from station 1.2km)
Your next stop is Pathegamgoda, a small station sandwiched between the Ahungalla and Balapitiya stations. Just 1.2km away from Pathegamgoda station is the Sri Wickramasinghe ancient temple, a Buddhist temple boasting more than 200 years of history and quite unique in that it is located on an island in the middle of the Madhu River. A quick boat ride over provides access to the historic location.

Seenigama Muhudu Viharaya – Telwatta station (distance from station 1.7km)
The penultimate stop on our journey is Telwatta Station, a smaller station that provides the closest access point to the Seenigama Muhudu Viharaya. The temple is in two parts, a larger premise on the mainland and a smaller shrine that pays homage to a local deity said to protect fishermen and their boats on a small islet, easily travelled to by boat. As one of the smallest islets to house any form of religious site, this temple is must see if you want to get a taste of local cultures and traditions co-existing with larger monuments.

Hikkaduwa beach – Hikkaduwa station (distance from station 500m)
Finally, we've arrived at Hikkaduwa, our destination. Frequently lauded as the best beach in Sri Lanka, Hikkaduwa Beach sits just 500m from the train station. Dotted with local and larger beach-front restaurants, Hikkaduwa Beach is the place to be to get a taste of that tropical beach lifestyle. Dig into some seafood, catch the exquisite sunsets, surf the waves or even go out for a night on the town.
With such a lively locale, there's plenty of accommodation options for you to choose from. For one of the best budget hotels in Hikkaduwa that also happens to be right on the beach, Citrus Hikkaduwa is definitely worth checking out so that you can make the most of your time in Hikkaduwa.
Image credits: trvl_cpl via Instagram

Sri Lanka has recently become quite popular as a venue for destination weddings. Sri Lanka is an ideal location to make your dream come true and have a beach wedding. Weddings, in general, are quite stressful to plan and execute as there are many tiny details that need attention but might completely slip your mind. Planning a beach wedding in Sri Lanka might seem too big to handle right now, but we are here to help you out and reduce some of that stress you may be feeling! Here are 7 tips on how to plan a perfect beach wedding.
1. Pay attention to your location
Not to state the obvious, but the location of your dream wedding is quite important and affects all the other details. Hikkaduwa has some of the top wedding venues in Sri Lanka as they have luxurious hotels serving high quality food and a clean wide beach. But since you may have not been to all the possible beach hotels in Sri Lanka, spend some time talking to people and researching on your various options. Do not rush your decision. Pay close attention to the setting, the view and the various amenities that will be provided by the hotel to find out if it suits your liking.
2. Inform guests about the venue
Before you jump into any conclusions about how obvious this might seem, hear us out. Yes, informing guests about the date and venue is obvious, but for a beach wedding, especially if it requires your guests to make travel arrangements, inform them well ahead. Some people may need prior notice to arrange their trip to your wedding which will help you finalize the wedding list as well. Secondly, it is vital that you mention it is an outdoor beach wedding so that guests will attend in suitable and comfortable attire. The last thing you would want is for guests to be unhappy because their heels are stuck in the sand or their brand new suit has got spoilt by the salty air.
3. Choose the time of day
Just like any other wedding pick whether you would want to get married in the morning or evening, but choose it well ahead. Unlike an indoor wedding, the lighting at a beach wedding can be quite unpredictable. Therefore it is important to decide on the time of day and inform the photographer so they can be well prepared with the necessary equipment. Additionally, the make-up, suit and even menu would depend highly on the time of day. So the sooner you decide on it, the sooner you can get started on the other details.
4. Consider a backup
Unfortunately, no matter how meticulously you plan, everything is not in your control. Especially the weather. In case the weather on the day is not favorable for an outdoor wedding have a backup ready close to your beach location. You can even consider setting up decorated tents and marquees to fight the weather. But let's hope and pray that on your wedding day the sky would be clear and the weather would be perfect.
5. Make-up check
Make-up is quite a crucial component in the bride and the bridal party's attire. And even though it can generally be quite tricky, outside weddings make it even more challenging. It is important that your hair and makeup will sustain the outdoor winds. It might be even worth it to have a few trial runs to see how long it may last outdoors.
6. Plan a menu accordingly
Beach weddings have an atmosphere of fun, dancing and drinking. The key to ensuring food and money is not wasted is to serve a light meal. Depending on the seating arrangement you may even consider serving finger food. Guests don't usually expect a huge buffet at a beach wedding and most guests may not even be interested in it as they may be eyeing the dance floor. So cut down on the food, but don't forget to spend on the drinks.
7. End with a bang
In the mad rush of planning and ensuring everything is perfect, don't forget this is you and your loved one's special day! The wedding may be planned to the very last detail, but don't forget to make it more special for the two of you. Take advantage of the location and plan a memorable ending to your wedding. Most hotels offer a boat ride for the newlyweds and this getaway might be the perfect end to your perfect day.