Sri Lanka has long been known for its outstanding surfing beaches and is one of the premiere destinations for surfing in South and South East Asia owing to its dreamy tropical climes and tourist-friendly locales.
But Sri Lanka also has some of the best beginner friendly surfing beaches around the world. So check this list of beginner-friendly surf spots for a handy guide. Surfs up!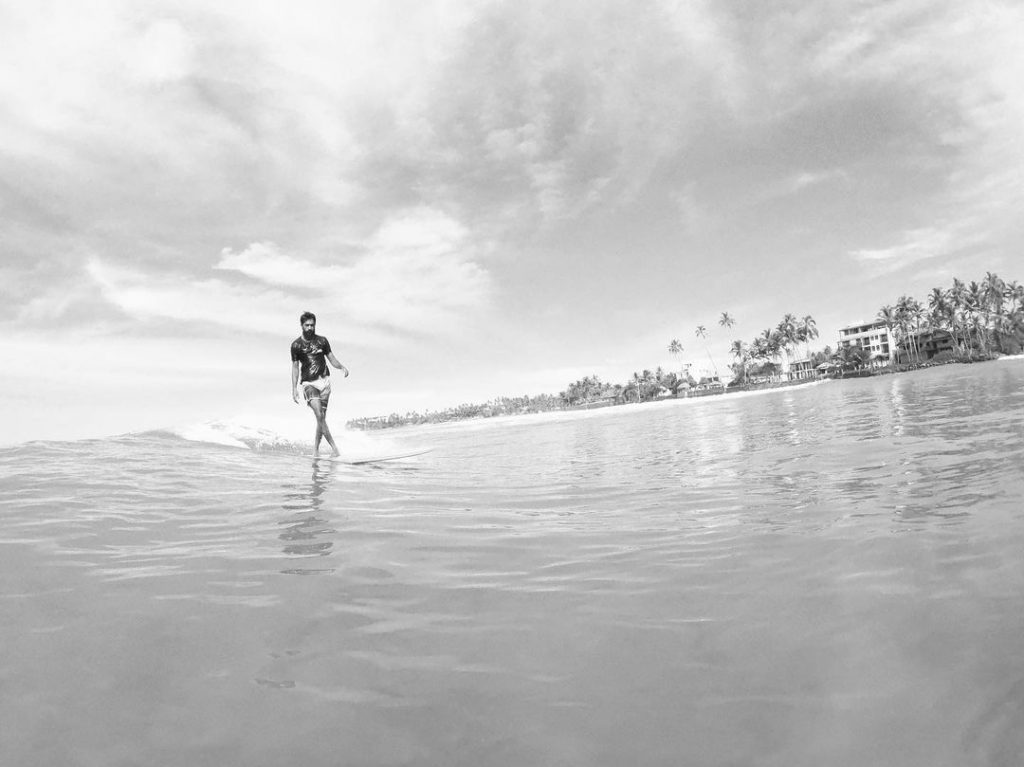 Way Down South is Weligama, the oft skipped over quieter cousin to Hikkaduwa. With a myriad of surfing schools dotted around the beach and some cheap surf rental places to boot, Weligama is known for a calm surf that is as easy for beginners as it is relaxing for a more experienced surfer. Weligama is a medium to low wave beach any way you look at it and the perfect place to get your surf legs on before diving into a deeper challenge.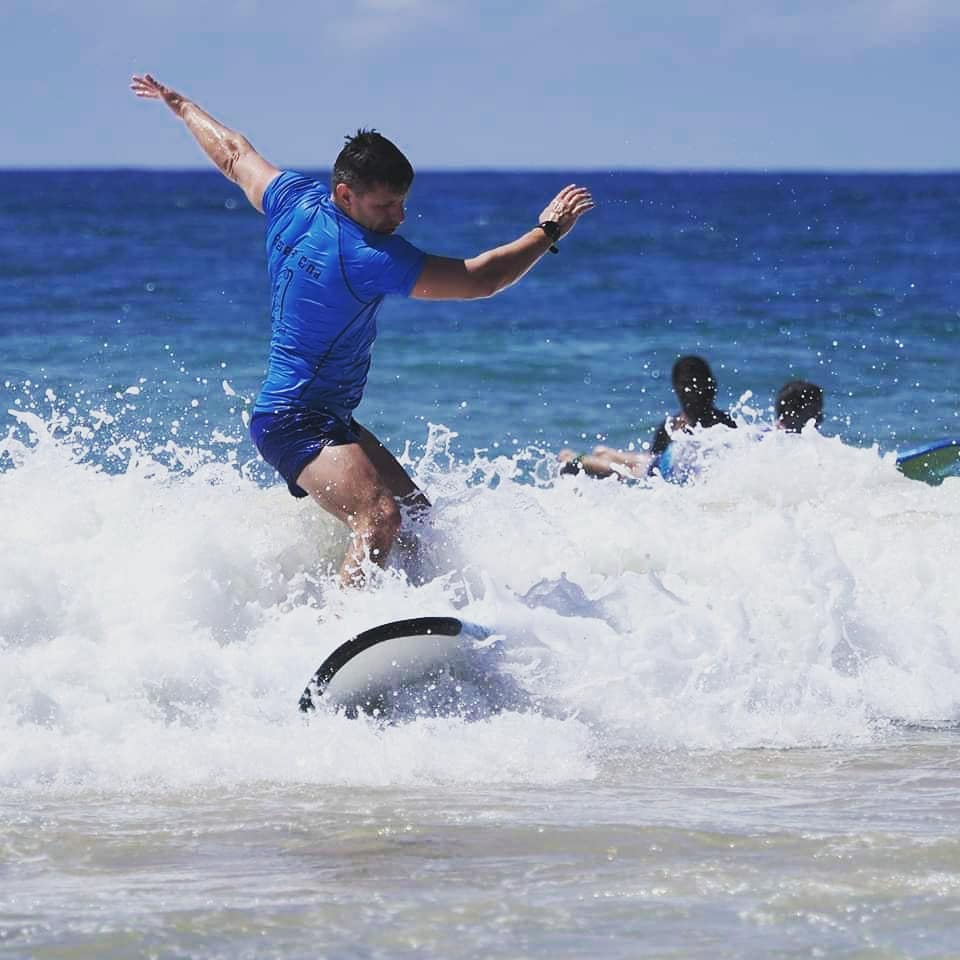 Once a fishing town but now a main hotspot for beach-happy tourists and locals, Hikkaduwa is a prime surf spot. Because of its popularity, where to stay in Hikkaduwa is rarely a tough question to find an answer for.
Hikkaduwa is known for quite a few famous local wave breaks, among which Beach Break is a sandy break often favored by beginners and learners for its low waves.
A crescent-shaped beach surrounded by palm trees, Mirissa Beach is right next to Weligama and boasts equally beginner-friendly breaks and waves. With steady wave heights not exceeding 6ft, this is an ideal spot to build your confidence on a reef so that you're raring to go when you're in choppier waters. Mirissa is a charming beach town with beautiful waves, a friendly locale and the best sun and surf. There's a number of surf schools and shops around, as is common around Sri Lanka's surfing towns so there's no excuses to skimp out on the waves.
Arugam Bay is Sri Lanka's East Coast surfing beach to beat. It's the beach that originally put Sri Lanka on the surfing map and still holds up as a haven for surfers of all levels to gather and try their luck on. Lighthouse and Whiskey Point are the main attractions here for beginner surfers, with chest- or shoulder-height breakers to cut your teeth on for some practice. Arugam Bay can get crowded, what with its popularity, with both visitors and local surfers alike but the upshot is that there's any number of pros around to ask for a helpful pointer or two if you're a beginner.
Near Arugam Bay is Elephant Rock, an oft-overlooked and isolated little beach. Few decide to make the trip owing to the 15-20 minute walk from the vehicle drop-off to the shore but it's definitely worth it because Elephant Rock boasts one of the best kept beaches on the island. It's clean, off-the-beaten path and chock-full of easy breakers for a delightful surf. And when you want a break from the waves, clamber up onto the sea-facing rock for a view-tiful break!

All around the world, the COVID-19 pandemic has put a hold on many of the daily activities and everyday things we took for granted. With it has come a slowdown of international tourist travel and leisure travel as many would-be travellers responsibly choose to forgo their vacation and instead opt for a staycation.
But what if you could get away to a tropical island where there's amazing deals on hotels and accomodation, stringent health and safety measures to protect you and the locals, reduced tourist crowds and the promise of a relaxing time for you to stretch, unwind and forget about the crazy year you've had? 
Sri Lanka has all those things and more and, as of January 2021, is welcoming you with open arms to visit the beaches and the resorts you couldn't get away to last year.
It goes without saying that in the past year, there's been a sudden drop in international travel and tourism. Because of this, almost all Sri Lanka hotels are offering staggering deals on stays and tour experiences now that Sri Lanka has opened up for visitors again. And there's no catch! You can book yourself a stay or a tour package for a fraction of what you would have spent last year with the same level of service and luxury as you've come to expect in Sri Lanka.
International travel and tourism in a pandemic is scary but when the safety and health measures are strict, up-to-par with international standards as set out by the WHO and assiduously overseen by both the Sri Lankan Tourist Development Authority (SLTDA) and the Health Ministry to ensure that you and your loved ones can safely experience Sri Lanka there's no cause for worry. With a safe tourist bio-bubble set up by the SLTDA and all cooperating and safety certified hotels and tour operators, there's no reason a pandemic should stop you from booking a trip to Sri Lanka. For comprehensive information on the safety guidelines and health measures in place for your safety and comfort during your stay in Sri Lanka, you can visit www.srilanka.travel/helloagain/
Since being named Best for Travel in 2019 by Lonely Planet and even before the award, Sri Lanka has always pulled in high numbers of tourists meaning that there's often large swathes of other tourists and even local vacationers around on your visit. But with vacations taking a backseat for everyone in the midst of a global pandemic and Sri Lanka having just opened its doors, right now is the best moment for you to visit. There's no crowds clogging up queues, beaches,rooms or pools anywhere and what's more, there's even safety guidelines recommending more than enough personal space for everyone once you get here.
It's also worth mentioning that as a top tourist destination, Sri Lanka took a severe stumble in 2020 when the pandemic hit. Though Sri Lanka's COVID-19 numbers stayed low, the sudden drop in tourism meant that one of Sri Lanka's main economic revenue sources halted. With thousands of local tourist industry employees left without an income, Sri Lanka opening up again in January 2021 has been much-awaited. Your vacation here is thus not just a leisure activity for yourself; you're also helping to uplift Sri Lanka's tourism industry.
2020 has been a stressful year for everyone in the world. The pandemic has shuttled a lot of people indoors and forced a lot of us to stay glued to our screens at home for work. So what better way to deal with all the stress and anxiety than with a trip to Sri Lanka? There's a variety of nature retreats, meditation centers and wellness resorts all around Sri Lanka that will help you destress and relieve your anxiety with Ayurveda, spa and wellness treatments around the clock.
PC: Pexels

Like a visit to south Asia is incomplete without a visit to scenic and serene Sri Lanka, a visit to our beautiful island paradise is incomplete without visiting Kalutara, a happening and commercial town situated 43km from the island's capital. If you're traveling straight to Kalutara from the airport, we suggest either taking a train or hiring a private vehicle, as the journey will take you roughly 1 hour and 20 minutes; depending on traffic.
Like most parts of the island, Kalutara has it's own few landmarks and tourist attractions that make the area standout with the tourists. You could either stay at accommodations in Kalutara town itself, or opt for the more famous beach side Waskaduwa hotels near Kalutara. Regardless to where you stay, here are a few places you shouldn't miss when visiting Kalutara.
Kalutara Bodhiya
The Kalutara Bodhiya is one of the most famous temples of the island, drawing thousands of islanders to it every year. The large temple is located in the southern part of the town, and is known by any local driver. It is a serene place ideal for centering and bringing balance to one's mind; and a good start for any journey. Worshippers and those who visit the temple are advised to wear clothing that cover their knees and shoulders, and behave in a quiet and calm manner.
Fa Hien Cave (complex)
If you're one of adventure, and love visiting old caves, then the history of this cave alone will make this trip worth your while. Fondly known as "pahiyangala" by the locals, this cave gets its name due to an ancient Chinese monk who's said to have used the cave as his rest stop, centuries ago. This cave is also archeologically rich, and is the largest cave in the island. Additionally, it's also one of the largest found natural rock formation found in Asia. A trip to this cave is known to be quite adventurous, so wearing sensible shoes and leaving behind young children is advisable.
Holy cross church
Sri Lanka is an island that houses people of many religions; Christianity a prominent religion among them. The Holy cross church situated in the Galle road is a serene and beautiful building, and attracts many visitors to it¾irrespective of their religion. This popular church is not only beguiling from within; it also has spectacular views as it stands on an elevated area facing the ocean¾making it very popular for weddings nowadays. Merely a kilometer from town, you can easily access this church by road.
Ranjith's carving and Batik Museum
Sri Lanka is known for its beautiful carvings and batik creations; from traditional wooden facemasks to the contemporary wearable batiks. A visit to Sri Lanka can be made more memorable by purchasing items made by local artists, giving yourself a tangible token to remind yourself of your time in our paradise island. However, if you're travelling light and are unable to purchase these items at the moment, do the next best thing, by visiting a craft museum to have a closer look at these items. Ranjith's carving and batik museum is one such famous museum in the Kalutara district, where you'd be able to witness some of the finest creations of the island.
Asokaramaya Buddhist temple
Just like the Kalutara Bodhiya, the Asokaramaya temple is another prominent temple situated in Kalutara; though less crowded by the tourists. This temple is situated in the northern part of the town, and boasts of colorful statues and paintings that will surely mesmerize you. Though it has been expanded considerably since it's original construction, the temple is still considered to be smaller by local standards, and makes the perfect spot for a quick visit.
Thudugala Ella waterfall
You cannot visit Sri Lanka and avoid the waterfalls; you'll be missing out on so much! Start your waterfall adventure right here at Kalutara by visiting the areas famed Thudugala Ella. The waterfall is not one of the largest or widest found on the island, but is certainly charming. For the best experience, try to visit the falls in the early hours of the day, when it's less populated. Don't forget to try to get to the top of the waterfall, where you'll find a shallow pool perfect for a dip…!
Bodhinagala Forest hermitage
If you're looking for a truly serene experience, and you feel visiting the popular temples may not be the right thing for you, we suggest you visit the Bodhinagala Forest hermitage. Located in Ingiriya, just 37km from Kalutara town, you can easily get there via hired vehicles. A serene surrounding as well as fresh air is promised to you here, provided you remember this is a sacred area, and behave respectfully…
There is a wealth to Sri Lanka that is barely touched on, as when the discerning traveller has exhausted all of the more famous and popular destinations, they may think that there is nothing more to see. On the contrary, Sri Lanka is full of gems of historical and natural value, and there are a number of these gems that are situated in the Kelaniya and Gampaha districts. The convenience with which you can travel to them from Colombo, especially if you are staying at the Steuart by Citrus, means that these places are attractive for day trips and can be visited quite easily.
Kelaniya Raja Maha Viharaya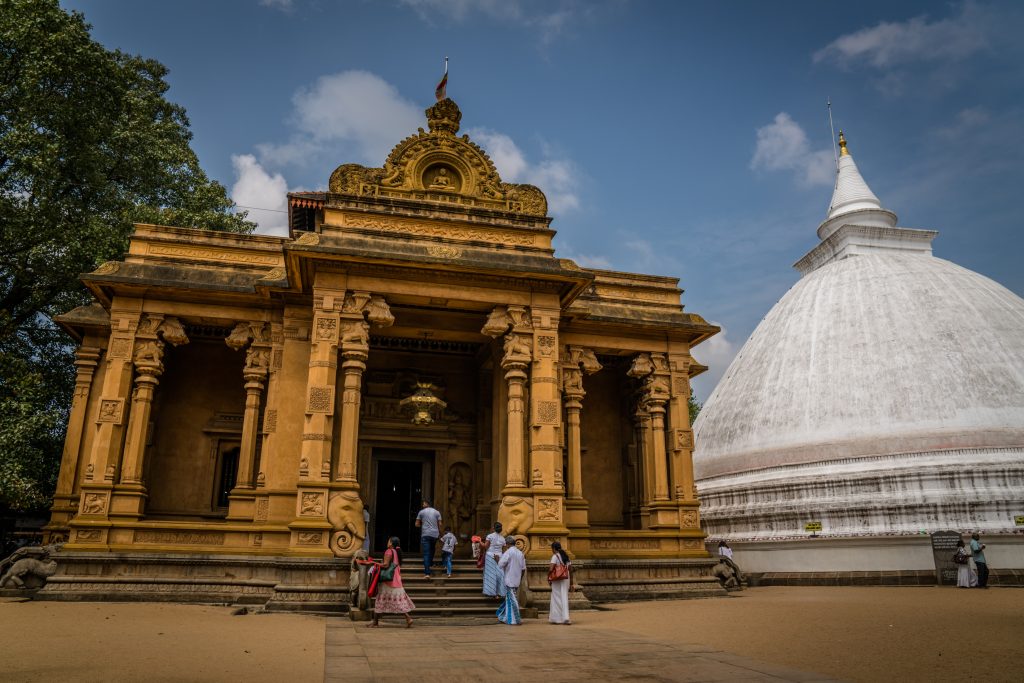 Sometimes overshadowed by the bigger, more famed temples in the likes of Colombo and Kandy, the Kelaniya Raja Maha Viharaya carries with it a supremely captivating history. The site is believed to have been visited by Buddha himself after he gained enlightment, on his last trip to the island. Preaching to the people who lived in the area while sitting on a gem encrusted throne, it is said that the sermon reconciled two enemies, thus bringing peace to the area. The throne, donated by one of the enemies, was then encased in a stupa, and became a relic that held importance for Buddhists all over the island. Of course as the wave of colonisation hit, the Portuguese destroyed the temple, a move that was emblematic of their reaction towards the religion in general. Luckily, while the Dutch were ruling, the temple was rebuilt. In recent history there were some renovations done to the building, and most notably, the art inside the temple was renovated by a beloved artist. Though painted in the last century, the artworks done by Soliyas Mendis carried with them the hints and whispers of ancient paintings in the style of India and Sri Lanka. The paintings are a major artistic draw to the temple, as they seek to represent the life of Buddha and important moments in how the religion took root in the country. The Kelaniya Raja Maha Viharaya is also famous for being the starting point of the Duruthu Perahera, an impressive procession that is probably second in fame only to the Kandy Esala Perahera.
Water World
The first underwater tunnel aquarium of its kind in South Asia, Water World is a novelty that many people have not heard about. The only major public aquarium in the country, Water World is great for those who love fish as pets, as well as for children. Belying its name, the establishment also has a bird park that features an impressive array that nowhere else in the country comes close to. The aquarium features an eclectic assortment or fish, such as electric eels and fish of both foreign and local origin as well as the arapaima, lung fish and freshwater sting rays that were from the Amazon River. One of the most impressive parts of the aquarium is the shark dome – a sight that many kids are sure to love, especially at feeding time. Rather than being scary, the sharks are interesting to view and will certainly raise a lot of questions in a little child's mind.
The bird park is equally, if not more impressive. Featuring quite the collection of birds from all over the world, the bird park is sure to interest bird lovers everywhere. Learn about different kinds of birds and marvel at the different variations of their feathers.
Gampaha Botanical Garden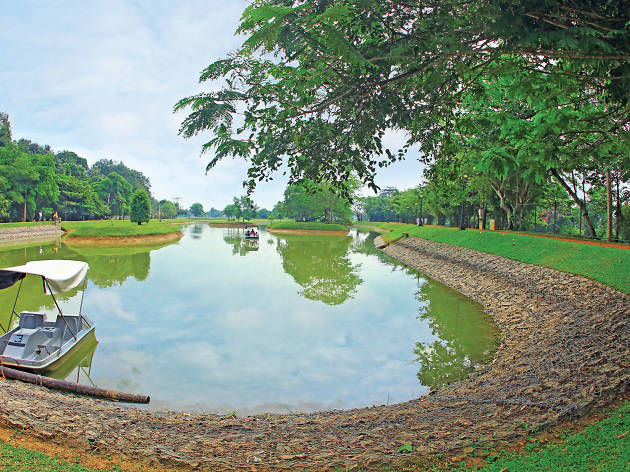 This garden is also called Henarathgoda Botanical Garden, a fact that is good to keep in mind if you are researching it as a potential place to visit. Established in 1876 predominantly as a space that the British could use to test out different plants for their economic viability (rubber being one of the most famous of these), the garden ended up benefiting from this by hosting plants from around the world. The space spreads out over 43 acres, and features many plants that were grafted into the tropical part of the world's plant based lexicon. The garden is organised in a pleasant manner, featuring a vast number of sections that keep the visit interesting. These include a paddy field, a forest, and themed sections of the garden, all full of exotic plants. There's an orchid garden, palm garden and Japanese garden. The medicinal garden is sure to be of interest to those who practice natural self-care. The garden is laid out beside a lake, and the two formed a symbiotic relationship. The garden is now bursting with life, resplendent in its collecting of interesting, fascination plants and botanical masterpieces, all with a story of the country to tell. It's possible to enjoy a boat ride in the lake, called Attanagalu Oya. There's also a bridge over the river that some may enjoy walking over. The gardens are open from 7.30am to 5.00pm and stay open throughout the year. There is a canteen if you develop a natural hunger from walking around the gardens. When you're there watch out of the birds, mammals and butterflies that are endemic to the country.
Pilikuththuwa Temple
The Pilikuththuwa temple is a fascinating piece of harmony between man and nature. An ancient cave temple, the grounds of these earthy structures are built for exploration. With a history that dates back centuries, some historians believing that the area was occupied since the pre historic period including around the 2nd century BC. An interesting piece of cultural history attached to the place is the legend that it served as a refuge for the famed King Walagamba during the bloody conquests from South India. Around 77 rock caves, also known as drip lodged caves, have currently been discovered in the compound, with some believing there to be more. As is the case, the temple thus most probably has the most amount of drop caves in the country. Other attractions include stone ponds, a reservoir, water pools that are both natural and manmade. These increase the beauty of an already fascinating living relic of history. There's also a wooden bridge that belongs to the era when Kandy as the capital of the country, and a Dagoba. The temple as well as many of the features inside it have been recognised by the Government as an archaeological site as well as memorials to be protected.
Waturugama Pettagam Gala
A mostly unknown gem, Pettagama Kanda is a mountain that once can climb, to observe an interesting rock that is perched on top at an angle that looks unreal. Kanda means mountain, and Pettagama is in reference to the boxy shape of the stone. The stone looks like it's about to roll away at any minute, but it has stood there for as long as anyone can remember, holding its ground and defying gravity. There is a statue of Buddha that lies beneath it, in a cave. There is a stupa that was built recently and whitewashed to shiny perfection as it stands before the temple and the rock, holding sway over the visitors who approach. This temple too lays claim to King Walagamba, maintaining that he fled here after he had to abandon his kingdom, Anuradhapura, when raiders from South India invaded. The place has a peaceful atmosphere, exacerbated by the fact that very few tourists know of the place and thus do not visit. The place also has a close connection to nature, as the temple follows the contours of the rock and a dozen different kinds of animals scurry around. You can hear the sounds of monkeys, and may glimpse a fox or two. There are also wild boars and the elusive fishing cat, an adorable species of small wild cats that are found in very few places in the world. You can easily spend a few hours among the rocks, enjoying the view and contemplating the nature that surrounds you.
Algama Falls
Algama Falls isn't the biggest or most impressive waterfall in the country, but there is a quietness to it and a sense of adventure in discovering it that makes it a delightful waterfall to visit. Situated in the Kegalle district and accessible by road, there's nevertheless a spot where you must leave the vehicle and walk to the falls, contributing to its secretive atmosphere. The walk to the falls is as enchanting as the falls themselves, and once you climb the stony path you will reach the falls. Falling 6 meters, you can view the water from a ledge nearby. The water falls into a hole in the rocks, and emerges a little later.
Ranwala Thotupola
There is a rest house at Hanwella that sports a ford, or Thotupola, that may date back to the times that the Portuguese, Dutch and British used the river to cross over to Kandy. Finding it is a fun adventure, and using it to cross the river will be a little journey into history. Enjoy the view over the river, and reflect on the history that sleeps beneath the waters.
You haven't truly experienced the magic of Sri Lanka's southern region, also called Down South, if you haven't tried these delectable seafood creations. Ranging from delicate flavours to full blown spice, these foods carry the essence and spirit of the land that they come from. The dishes are often interesting fusions that are creative in execution and most importantly, extremely delicious! The places range from small shops in the likes of Galle to fine dining Hikkaduwa restaurants, and these dishes are not to be missed.
Prawn Curry with Bread
This dish is a fantastic Sri Lankan take on prawn. Featuring juicy prawns in a spicy red curry, this dish is all about hitting the right flavour notes. Zesty without being too hot, think flavoursome instead of just being loaded with chillies, this curry fills the mouth with a tangy taste that suits the pink and white flesh of the prawns very well. The curry is eaten with a special kind of bread known as roast paan, a rustic kind of loaf that requires it to be pulled apart. Crusty on the outside but yeasty and soft on the inside, the bread is the perfect accompaniment to soak up the tangy curry of the prawn. The combination is often heavenly, and fills one up after a day of adventure!
Baked Crab
Fragrant and delicious, the baked crab available at fine dining restaurants in the region are not to be missed. Usually made with fresh crab, the dish is spiced just right – not too hot and not underwhelming in flavour either. It's the perfect dish to end a leisurely day of luxurious lounging by the pool, and makes for an elegant dinner at some of the best restaurants in Hikkaduwa.
Hot Butter Cuttlefish
An absolute favourite of locals everywhere, but especially delectable down south, Hot Butter Cuttlefish is a great snack or accompaniment to fried rice. This is one of the most popular fusion dishes in the island, as it is purported to be a Chinese dish but in reality has a spicy Sri Lankan kick to it that makes it uniquely local. Some make it crispy, some prefer to drizzle more sauce over it, but most versions are quite yummy, featuring a generous amount of piquant sweet and sourness.
Crab Kotthu
Mixing crab meat with Sri Lanka's most beloved street food is a stroke of genius. The chopped up pieces of roti are mixed in an assortment of vegetables such as leeks and onions and of course, crab meat. The resulting mixture is great to eat right off the griddle, as the classic kotthu dish is revamped with chunks of crab meat, making for a special dish.
Spicy Fish Curry
A dish you absolutely cannot get away without tasting is the simple fish curry, a staple of many around the region. Accompanied with rice or some other form of carbohydrate, fish curries down south are usually sharp and strong, benefiting from the freshness of the catch.