Like a visit to south Asia is incomplete without a visit to scenic and serene Sri Lanka, a visit to our beautiful island paradise is incomplete without visiting Kalutara, a happening and commercial town situated 43km from the island's capital. If you're traveling straight to Kalutara from the airport, we suggest either taking a train or hiring a private vehicle, as the journey will take you roughly 1 hour and 20 minutes; depending on traffic.
Like most parts of the island, Kalutara has it's own few landmarks and tourist attractions that make the area standout with the tourists. You could either stay at accommodations in Kalutara town itself, or opt for the more famous beach side Waskaduwa hotels near Kalutara. Regardless to where you stay, here are a few places you shouldn't miss when visiting Kalutara.
Kalutara Bodhiya
The Kalutara Bodhiya is one of the most famous temples of the island, drawing thousands of islanders to it every year. The large temple is located in the southern part of the town, and is known by any local driver. It is a serene place ideal for centering and bringing balance to one's mind; and a good start for any journey. Worshippers and those who visit the temple are advised to wear clothing that cover their knees and shoulders, and behave in a quiet and calm manner.
Fa Hien Cave (complex)
If you're one of adventure, and love visiting old caves, then the history of this cave alone will make this trip worth your while. Fondly known as "pahiyangala" by the locals, this cave gets its name due to an ancient Chinese monk who's said to have used the cave as his rest stop, centuries ago. This cave is also archeologically rich, and is the largest cave in the island. Additionally, it's also one of the largest found natural rock formation found in Asia. A trip to this cave is known to be quite adventurous, so wearing sensible shoes and leaving behind young children is advisable.
Holy cross church
Sri Lanka is an island that houses people of many religions; Christianity a prominent religion among them. The Holy cross church situated in the Galle road is a serene and beautiful building, and attracts many visitors to it¾irrespective of their religion. This popular church is not only beguiling from within; it also has spectacular views as it stands on an elevated area facing the ocean¾making it very popular for weddings nowadays. Merely a kilometer from town, you can easily access this church by road.
Ranjith's carving and Batik Museum
Sri Lanka is known for its beautiful carvings and batik creations; from traditional wooden facemasks to the contemporary wearable batiks. A visit to Sri Lanka can be made more memorable by purchasing items made by local artists, giving yourself a tangible token to remind yourself of your time in our paradise island. However, if you're travelling light and are unable to purchase these items at the moment, do the next best thing, by visiting a craft museum to have a closer look at these items. Ranjith's carving and batik museum is one such famous museum in the Kalutara district, where you'd be able to witness some of the finest creations of the island.
Asokaramaya Buddhist temple
Just like the Kalutara Bodhiya, the Asokaramaya temple is another prominent temple situated in Kalutara; though less crowded by the tourists. This temple is situated in the northern part of the town, and boasts of colorful statues and paintings that will surely mesmerize you. Though it has been expanded considerably since it's original construction, the temple is still considered to be smaller by local standards, and makes the perfect spot for a quick visit.
Thudugala Ella waterfall
You cannot visit Sri Lanka and avoid the waterfalls; you'll be missing out on so much! Start your waterfall adventure right here at Kalutara by visiting the areas famed Thudugala Ella. The waterfall is not one of the largest or widest found on the island, but is certainly charming. For the best experience, try to visit the falls in the early hours of the day, when it's less populated. Don't forget to try to get to the top of the waterfall, where you'll find a shallow pool perfect for a dip…!
Bodhinagala Forest hermitage
If you're looking for a truly serene experience, and you feel visiting the popular temples may not be the right thing for you, we suggest you visit the Bodhinagala Forest hermitage. Located in Ingiriya, just 37km from Kalutara town, you can easily get there via hired vehicles. A serene surrounding as well as fresh air is promised to you here, provided you remember this is a sacred area, and behave respectfully…
Sri Lanka is a land of multi religions, and if you're looking to experience tranquility and devotion at its best, then a visit to one of the numerous churches, temples or mosques scattered around the island is a must. If you've decided on visiting the Kande Viharaya temple located in Bentota, with it's world's tallest sitting Buddha statue, then here are a few things that you need to know.
How to get there from Colombo city?
If you're staying at the capital Colombo city, then the distance you'll need to travel to visit the temple would be 99km, which would take you roughly 1 hour and 30 minutes by road. If you'd rather travel by train, then all you have to do is catch a train from Fort railway station, to the Bentota Railway station. From there, it's a 10-minute drive to the Kande Viharaya temple. You could easily hire a road-side tuk for the journey, or pre-book a vehicle to meet you at the station.
Where to stay to get to the temple with ease?
If you want to continue staying at Colombo for a few more days in order to enjoy the city life for a bit longer, staying at Colombo and making a day trip to the Kande Viharaya temple is definitely possible. However, if you want to avoid wasting the time spent traveling, we suggest staying at one of the nearby beach towns. You can easily find comfortable Hotels in Hikkaduwa, Bentota as well as Kalutara to suit your expectation, or even opt for other accommodations such as hostels; all depending on your budget. Remember that apart from reducing the time and energy it takes to travel to the temple, you're also saving up on your precious holiday time¾time you could use to explore and enjoy the island further.
What to wear for your trip to the temple?
As we've mentioned before, Sri Lanka is a multi religious country, and all visitors to the island are welcomed with open arms to any of the places of worship found at the island. However, most temples expect visitors to dress and behave appropriately. In general, avoid "loud" clothing, as the space is meant to be serene and calming. Choose clothes that cover your shoulders and knees, or you'll be asked to use a shawl or sarong over your clothing. As most temples require that you enter it bare feet, choose foot wear that is easy to remove.
What to expect to see at the temple?
An impressive temple with a mixture of architectural designs, the first sight that will greet you as you approach the temple is the sight of the 160ft tall Buddha statue. Once you've got your fill of this awe inspiring sight, head inside the temple to explore it further. You'll be able to see the stupa, the relic chamber, the image chamber, as well as the Bodhi tree which is believed to be over 300 years old. The image chamber is filled with paintings and carvings depicting important Buddhist historical incidents, mostly relevant to the island.
Other tourist attraction close to the temple
In order to make your visit to Bentota more productive, consider squeezing in a few more activities into your schedule for the day. Here are some options we'd suggest;
Bentota beach – pristine golden sands and calm waves makes this beach the ideal spot to visit after a long day of travel and site seeing. Soak up the sun and the sea while enjoying a local drink and a nibble of food to cap off your already tranquil day…
Bentota Turtle hatchery – protecting our sea creatures is an initiative that's fast becoming popular among Sri Lankans; and a visit to the turtle hatchery will show you exactly how hard some locals work in order to protect these sea creatures.
Diyakawa water sports center – if the slow pace of the day and the serenity of it makes you want a little "pick me up", and you'd like to add a touch of mild adventure to your day, heading over to this water sports center will certainly be ideal for you. With trained staff and activities for all age groups, this will also make a fun addition to any family trip.
Madu ganga river safari – if you love the water, but are not so keen on the sports part, opt instead for a calm and tranquil river safari on the river Madu. This famous river of Kalutara along with it's rich banks is the home for many native birds, making it a great program for birdwatchers and nature lovers alike.
Galle Dutch fort – Sri Lanka is situated in a very unique position, making it an attraction to those following the silk route in the ancient times. This also meant the island was always attracting invaders, who left behind signs of their arrival, even decades after their departure. One such sign is the Galle Dutch fort, built in 1588. Visitors to this ancient building not only get to enjoy its spectacular architecture, but also the view from it. You'll also be able to enjoy the unique atmosphere within the
If you're an avid traveler, and love exploring the world, then by now we're sure you would have heard of Sri Lanka. Mostly popular for its breathtaking beaches, chilled out mountain views and charming locals, this tiny island in the Indian ocean has steadily climbed the ladder of fame in the last few years. If Sri Lanka has been beckoning you for a visit, then here are a few things you need to know before you answer its call.
Make your hotel reservations online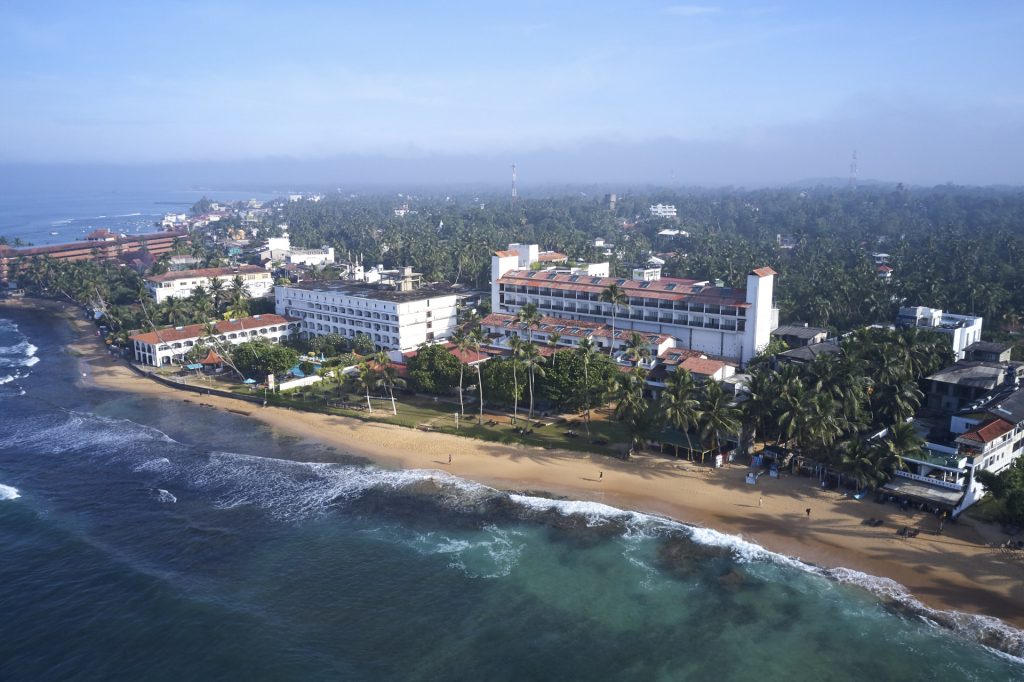 This is something that is common for any vacation; booking your hotel online, and well ahead of time is a must to avoid additional charges as well as wasting time once you arrive at your destination. Hotels in Sri Lanka are plentiful, and are affordable for any type of traveler. We suggest setting your budget for this according to what you expect out of your stay; spending minimum if you're not planning on doing anything in the hotel room except wash off and sleep, and spending more if you'd like a little luxury and pampering.
Pack for your trip smartly
It's hot and humid in Sri Lanka, especially in the coastal areas. Pack light weight clothing that's breezy and comfortable. If you're planning on traveling inland, don't forget to pack a jacket as well. Be mindful that the temples in Sri Lanka require you to cover your shoulders, and that your clothes have to be at least knee length; pack at least 1 appropriate outfit or use the jacket we mentioned above to cover up. Remember it's a place of worship; act accordingly.
Don't forget to pack sun protectors
If you're not used to staying prolonged hours out in the sun, the Sri Lanka sun can be quite damaging to your skin. Pack a sunscreen that suits your skin, beach footwear, large hats and sunglasses to protect yourself from the sun. Also remember to keep yourself well hydrated if you choose to sunbathe!
On arrival, exchange currency at the airport
Having cash on hand will make life easier on you as you get around the island. You can definitely use debit and credit cards in most places of the island, but you'll have a hard time shopping on a whim off street carts if you don't have cash on hand. And while there are plenty of currency exchange spots around the country, the airport is the safest, most trustworthy and convenient spot in our opinion.
Don't be surprised if the locals approach you
Sri Lankan locals are pretty friendly and welcoming, so don't be surprised if people approach you just to say "Hi" or try to photobomb your pictures. Even the little ones, though shy, will wave at you on occasion; especially if you're on a huge tourist bus! But this doesn't mean you don't have to be cautious. There's a rotten apple in every basket!
Be vary of overcharging vendors and transport
Like most tourist countries, Sri Lanka too has a reputation of overcharging for tourists; mostly on tourist areas. Your best play, when purchasing items from vendors, is to do a price comparison with a few shops and bargain a little. As for the infamous "tuk tuks", we strongly suggest avoiding them for short distances. Walking or hiring a motor bike is a cheaper option.
Public transport can be fun
Unlike some south Asian countries, Sri Lankan public transportation can actually be fun. The public busses can be a little nerve wrecking for the weak hearted, especially when the bus drivers try to race each other. But it will guaranteed get you from point A to B for the cheapest price. Sri Lankan train rides, on the other hand, are gaining popularity due to its Insta-friendliness, and is fondly being called the world's prettiest train ride.
There's plenty of party action; but not everywhere
Like most tourist destinations, Sri Lanka too has strong party action. However, not all areas of the island have happening nightlife, so if this is what you're after, prior research is required. It's also worth noting that while there's plenty of alcohol served in the island, not all restaurants have a liquor license or encourage BYOB.
If you look up Sri Lanka in the world map, you'd never think that such a small island in the Indian ocean can be one of multi ethnicities, religions and languages. In fact, not many people know that the island's locals celebrate each ethnicity's and each religion's important dates equally; making it look and feel like they're partying and celebrating all year long! If you're planning a trip to Sri Lanka any time soon, knowing what the important festivals are, and when they will be celebrated will make it easier to plan your dates around them. The below is a small selection of not all, but major festivals that you should not miss during your visit to Sri Lanka this year.
Independence Day
Due to its rather important location on the silk route, Sri Lanka has faced and fought many invaders in the past. Some battles were won, and those that the locals lost left a lasting impression on the island's culture and architecture. The history of Sri Lanka intertwines beautifully with those of its surrounding countries, and many a time, the invaders who conquer the countries around the island attempt to conquer this little island in the Indian ocean as well. After much struggles, Sri Lanka attained its independence from its last invaders on the 4th of February 1948. This day is celebrated grandly each year with parades and dancing, and should not be missed if you're in the island during this period.
Navam Perahera
The Gangaramaya temple is a 120 years old temple within the Colombo city limits. This temple is a must visit on any other day due to its historical, religious and cultural importance. However, if you're in Sri Lanka around the Navam Poya (full moon), which usually falls in February, you should not miss catching a glimpse of the Navam Maha Perahera on that day. This second full moon of the year is considered to have great importance to those following Buddhism, and to commemorate it, the locals celebrate a colorful festival over the period of 2 days. The Gangaramaya temple is within a short walking distance from The Steuart city hotel in Colombo.
Sinhala and Tamil new year
Like we've mentioned above, Sri Lanka is a country of multi languages, religions and ethnicities. And though peace is something that the locals actively strive to hold, there are a few minor altercations that highlight their differences. However, when it comes to common festivals like the Sinhala and Tamil new year, the locals lay aside all differences and celebrate the day in harmony and grandeur. This celebration happens annually on the 13th and 14th of April; marking the end of harvest season. The locals polish up their homes, wear clothes in auspicious colors and generally spend time reconnecting with friends and family. Like most celebrations of the island, these days are also celebrated with color and noise; something hard to miss if you're in the island during this period of the year.
Vesak Poya
The Vesak poya, the full moon falling on the month of May, is once more religiously important to Buddhism. It is believed that in a day similar to this, the lord Buddha was born, and also received enlightenment. Due to this reason, Buddhists all around the country light up lamps and decorative lanterns to celebrate the day. This festival is celebrated over the course of two days, where you will be able to see friendly lantern decorating competitions and free roadside food stalls all around the country. This is considered to be one of the prettiest festivals of the island, and something you definitely should not miss out on if you're hoping to plan a visit to Sri Lanka around this period.
Kandy Esala Perahera
Apart from the beaches, and the humble and welcoming locals, Sri Lanka is also famous for its colorful and loud festivals; The Esala Perahera being the most famous among them. Conducted every year in the historical hill city Kandy, this is an event you should not miss if you're in Sri Lanka around months of June and July. Remember that this is a celebration, and the festival draws hundreds of tourists every year. It's always better to pre order your seats and make other prior arrangements (like booking your transport and hotel for the stay) ahead of time to avoid disappointment.
When you visit Sri Lanka, do not be afraid to join in on the celebrations; the locals would love having you join in! However, if you plan on visiting any of the religious sites, don't forget to pack appropriate clothing and be respectful.